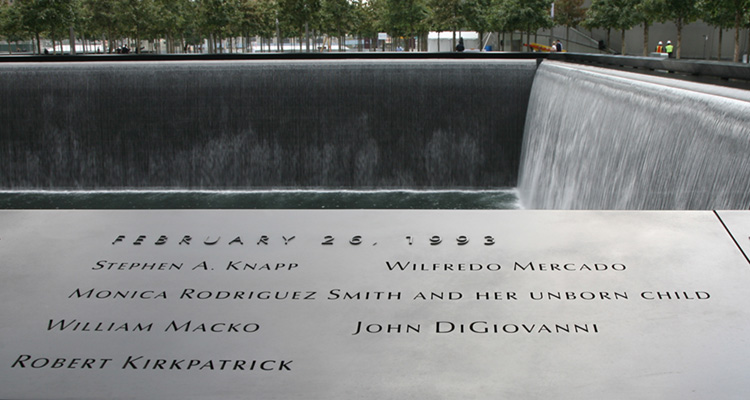 On February 26, 1993, at 12:18 p.m., a small cell of terrorists, with links to a local radical mosque and broader Islamist terror networks, detonated about 1,200 pounds of explosives in a rental van in the underground parking garage at the World Trade Center. The terrorists fled the area after setting the bomb to explode. The explosion created a five-story crater in the sub-grade levels of the towers and undermined the floor of an adjoining hotel.
The terrorist attack killed six people and an unborn child. The victims were John DiGiovanni, Robert Kirkpatrick, Stephen Knapp, William Macko, Wilfredo Mercado and Monica Rodriguez Smith, who was pregnant. More than 1,000 people were injured, including 88 firefighters, 35 police officers, and an emergency medical services worker. About 50,000 people evacuated from the WTC complex.
Within minutes, the North Tower lobby filled with thick black smoke. Some WTC tenants began an evacuation down dark and smoky stairwells with improvised light sources such as cigarette lighters or mini-flashlights. Others were impeded by increasing smoke in the stairwells and forced to wait in conditions severe enough in some areas for tenants to break out windows.
Local, state and federal agencies responded to the incident and contributed to what was then the largest coordinated rescue effort in New York City history. Within an hour, power for the entire WTC complex was shut down because of safety risks to firefighters working near water sources, leaving the buildings and its occupants in the dark.
The general evacuation of WTC tenants took more than four hours. Rescuers checked all 210 elevator cars – freeing trapped people from 45 of them – and searched each floor in the three buildings, more than eight million square feet of space. Later that evening, 28 people with medical conditions, including one woman in labor, were escorted to the roof by NYPD and airlifted to an EMS staging area.
---
Remembering the Victims
VOICES Living Memorial commemorates the lives of the six victims. Click on their photos to learn more about their lives and stories. To contribute photos or remembrances of those who perished, please email Lani DeBoer at
ldeboer@voicesofsept11.org
.
---
25 Years Later: The 1993 World Trade Center Bombing, Then and Now
On February 12, VOICES was honored to co-host 25 Years Later: The 1993 World Trade Center Bombing, Then and Now with the 9/11 Memorial Museum.
The program featured a discussion with individuals who shared their firsthand experience of losing a family member, surviving or responding to the 1993 attack. Panelists included:
Retired Sgt. Timothy Farrell of the NYPD
Lolita Jackson, 1993 and 9/11 survivor
Michael Macko, 1993 family member
Carl Selinger, 1993 survivor
The second panel included mental health professionals who discussed the continuum of stress, trauma and loss and the importance of commemoration and community to enhance resilience. Panelists included:
Mary Fetchet, LCSW and Founding Director, VOICES of September 11th
Naomi Simon, MD, MSc, Professor of Psychiatry, NYU School of Medicine
Rachel Yehuda, PhD, Director of Traumatic Stress Studies, Mt. Sinai School of Medicine
View Video of the Program
---
Commemorating the 25th Anniversary