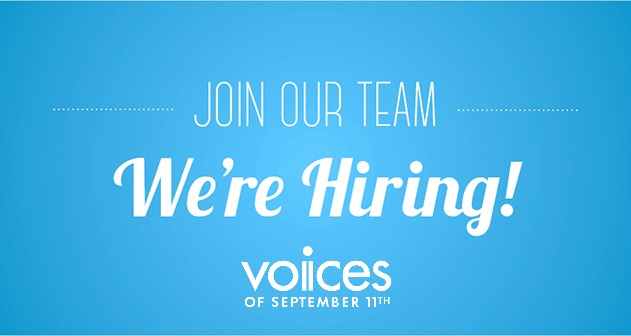 ---
Job Opening: Social Worker
Voices of September 11th (VOICES) is seeking a full time, Licensed Social Worker to lead the daily operations of our support services and programs. Responsibilities include coordinating outreach efforts, conducting assessments and making referrals, and providing case management services for 9/11 families, survivors and first responders. The position is located in our New Canaan, CT office.
The ideal candidate is passionate about our mission, and interested in expanding their professional expertise by providing support services that address the long-term needs of victims' families, survivors and responders. The individual should be enthusiastic and confident in leading our mental health initiatives, while working collaboratively with the VOICES Founding Director and staff members to develop and coordinate educational programs and annual conferences.
Skills and Requirements:
LSW or LCSW with minimum of 4 years of experience
Case management, referrals and assessments
Client and community outreach
Ability to manage multiple projects simultaneously
Interest in the field of trauma, bereavement, resiliency
Interest in working with victims' families, survivors and responders
Experience in facilitating support groups and supervising interns a plus
This is a full-time, salaried position with benefits, including insurance. Please send resumes to Mary Fetchet at
mafetchet@voicesofsept11.org
---
About Voices of September 11th (VOICES)
VOICES helps families and communities heal after tragedy. Founded in 2001, the organization provides a wide range of support services to promote resiliency in all those impacted by 9/11, commemorates the nearly 3,000 lives lost and advocates for national preparedness. More recently, the organization launched VOICES Center of Excellence for Community Resilience, to assist communities in preparing for and responding to acts of terrorism, mass violence and natural disasters. The Center promotes best practices in addressing the long-term needs of victims' families, survivors and responders through educational forums, training programs, and scholarly research.